Welcome!

Thanks for your visiting our site, and for your interest in naturopathic medicine. If you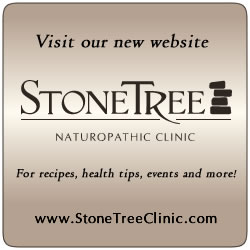 have any questions about how our personalized approach to health care can help you, please don't hesitate to contact our Collingwood Naturopathic office any time.
How Do I Get Started?
We happily welcome new patients. The easiest way to find out more about naturopathic medicine is to call our office at 705-444-5331. Many of our new patients start by booking a 15-minute "meet the doctor" visit - there's no charge for this, and it will help you discover exactly how we can help. You can learn more about naturopathy by visiting our new clinic website: StoneTree Naturopathic.

Yours in good health,

Tara Gignac, ND
Doctor of Naturopathic Medicine
Collingwood, Ontario

---
New and Notable
---
The Principles of Naturopathic Medicine
First, do no harm.
Act in co-operation with the healing power of nature.
Address the fundamental causes of disease.
Heal the whole person through individualized treatment.
Teach the principles of healthy living and preventive medicine.