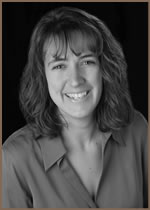 Tara Gignac, ND is a registered and licensed Naturopathic Doctor practicing in Collingwood, Ontario.

She received her Bachelor of Science degree at McMaster University prior to attending the Canadian College of Naturopathic Medicine (CCNM) in Toronto, where she completed the intensive four-year Naturopathic Medicine program.

Tara returned to Collingwood in 2001 to start her practice. Her specialty is creating a unique blend of medical science and holistic treatments to resolve a broad range of chronic and acute complaints.

Tara's current professional activities include:
NATUROPATHIC LEGISLATION AND EDUCATION

Board Member, Ontario Association of Naturopathic Doctors
Established in 1950, the OAND is a voluntary professional association representing 80 percent of Ontario's 755 registered naturopathic doctors, through government, media and public relations.
Professional Advisory Committee Member, North Simcoe Muskoka LHIN
Local Health Integration Networks (LHINs) were created by the Ontario government in March 2006, to plan, integrate and fund local health services. LHIN's are not-for-profit corporations who work with local health providers and community members to determine the health service priorities of their regions.
Member, Transition Advisory Group
TAG guides the transition council for the Naturopathy Act (Bill 171), which will oversee the movement of Naturopathy from the Drugless Practitioners Act to the Regulated Health Care Practitioner's Act (RHPA). The RHPA is the Act under which MD's and other licensed health care professionals are regulated.

Committee Chair, CCNM Program Advisory
The Canadian College of Naturopathic Medicine (CCNM) works to continuously improve their curriculum to ensure it meets the requirements of ND's in practice.

---
NATUROPATHIC RESEARCH
Advising Naturopath to the current Cardiovascular Research Study at CCNM
Learn more about ongoing research at the Canadian College of Naturopathic Medicine here.

Member, Ovos Natural Health Professional Advisory Board
OVOS Natural Health is an international natural health company developing evidence-based health solutions that improve the quality of human life. Their current flagship product is VIVIMIND™, a memory protector based on a naturally occurring ingredient found in seaweed.
---
BOOKS
Tara is also the co-author of the sabbatical guide Escape 101, and the upcoming alternative and complementary business text Healthy Profits.

Her writing has also been featured in Naturopathic Doctor News and Review, Integrative Healthcare Practitioner magazine, Viva magazine, the OAND Pulse, and many other publications.

---
NATUROPATHIC PRACTICE MANAGEMENT
Founding Contributor of IntegrativePractitioner.com
Integrative Practitioner is the premier online resource for healthcare professionals worldwide searching for the most up-to-date and credible information about integrative healthcare.

Co-founder of AlternativeHealthPractice.com
Tara is the co-founder of the popular practice management blog AlternativeHealthPractice.com, a source of practice growth and business advice for CAM professionals

---
PROFESSIONAL MEMBERSHIPS AND AFFILIATIONS
Member, Ontario Association of Naturopathic Doctors
Member, Canadian Association of Naturopathic Doctors
Registered and Licensed, Ontario Board of Directors of Drugless Therapy - Naturopathy (BDDT-N)

Tara also mantains the Collingwood Naturopath list, which lists licensed naturopaths in practice in the Collingwood, Wasaga Beach, Thornbury, Stayner and Creemore areas.
---
For more information about Naturopathic Medicine, see naturopathic services, and frequently asked questions.

To make an appointment to see Tara, please contact our office. We offer complementary 15 minute "meet the doctor" visits, and always happily accept new patients!